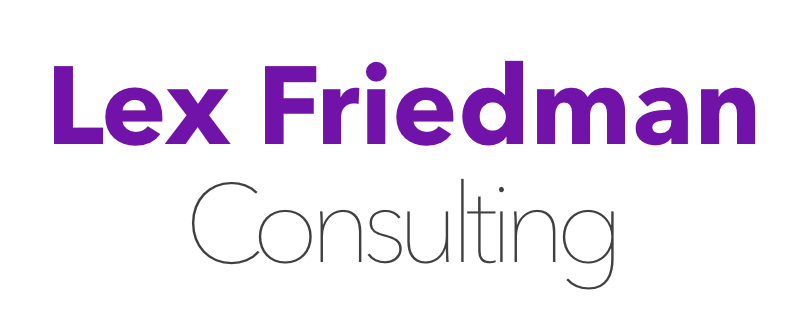 Lex Friedman

Consulting
There's nothing like an in-person workshop to boost your team's long-term morale, performance, and productivity.
I couple my presentations with
vibrant, interactive sessions
that get everyone talking, excited, and engaged. I've presented to sales teams, developers, and customer success, catering unique talks that are both participatory and thought-provoking. My goal is to get your team
more successful, more empowered, and more energized
about the work they can do.
I've spoken at QBRs, offsites, conferences, and strategic planning meetings around the globe, pushing teams to trust themselves and each other, handle challenging clients, and close more deals. My workshops can be
high-level and strategic
, but I'm also happy to get into the weeds to discuss
actionable, repeatable techniques specific to your business
.
Let's work together to
customize an in-person session that meets your needs
, and drives the results you're after. Whether you're looking for a half-day, full day, or two-day experience, we can shape something that specifically works for your business.
I've led single- and multi-day sessions on topics including:
• Sales: Refining your pitch
• Customer Success: Dealing with difficult clients
• Overcoming common objections to close more deals
• Understand your fears — and don't let them hold you back
• Working well with others: How to better leverage your teammates
• Doing better video calls to win more business
• Everyone is in sales — even you!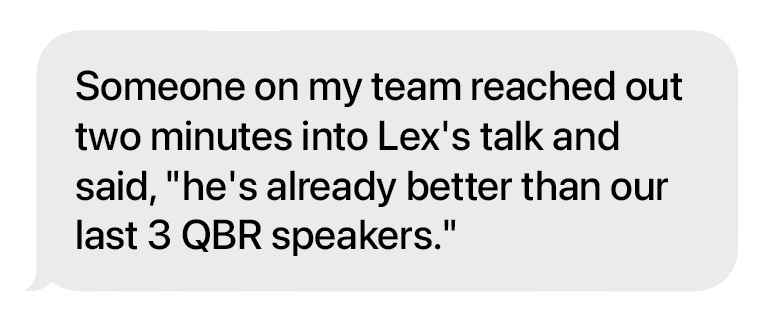 My recommended approach is to start with an interactive keynote that tackles key topics or growth areas for your business, followed by a team workshop. It's often also helpful to include an additional breakout session for key leaders or teams.
Let's talk
so that we can customize the perfect experience for you and your team.
Contact Lex today